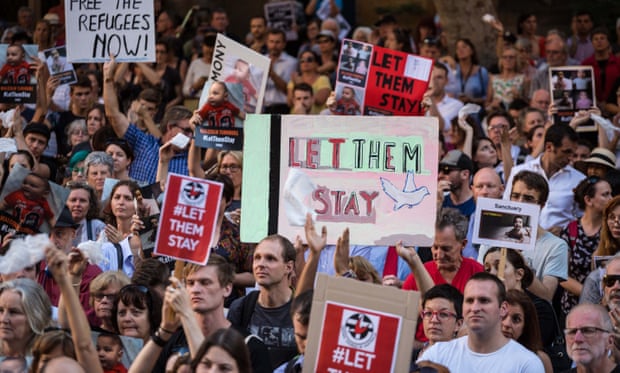 The hashtag #LetThemStay has attracted a lot of attention over the past fortnight.  Around the country, people from many sections of society have come together in banner drops, days-long vigils, and thousands-strong rallies.
This year, I am taking the action of writing an email to a Federal MP every day to oppose our Asylum Seeker Policy and children being placed in detention centres.
I have received an email telling me that I am a part of the #LetThemStay social movement.  That's O.K., I'm happy to be a part of this one.
There is a group in Perth called #LoveFindsTHeWay.  These are Christians who go to the offices of Federal MPs.  Two of their group go in first and offer the office staff flowers or home-made biscuits and explain politely that they are going to have a somewhat different work day.  The group then all follow inside and sit down for a prolonged sit-in.  They pray together and bring messages urging the Federal Government to get children out of detention centres.
In a similar manner, #LetThemStay is aiming to change the future of 267 people currently under threat of deportation and to make this a defining issue for every politician in Australia.
The email urged me to write to media or stage an event which they intend adding to a joint nationwide calendar on their community platform CommunityRun.  Whether it's taking a big group photo with mates in the park, a sit-in outside your MP's office, or a #LetThemStay themed sports match or music gig: whatever you want to do, now's the time to do it.
Events which have already been staged include a pram procession in Margaret River, a mums and bubs lunch outside Prime Minster Turnbull's office in Sydney, a banner suspended from the Sydney Harbour Bridge and numerous groups of workers holding placards photographed and uploaded to social media.
I love a good piece of people power and this one is proving to be attracting many.